Chapter VIII: Crossing the Ledo/Burma Road
<![if !supportEmptyParas]> <![endif]>
For general history of WWII in Burma see:
http://www.ibiblio.org/hyperwar/USA/USA-C-Burma45/index.html
http://history.acusd.edu/gen/WW2Timeline/Pacific06b.html
http://history.acusd.edu/gen/WW2Timeline/detachment101.html
Also see supplemental material at the end of this chapter.
<![if !vml]>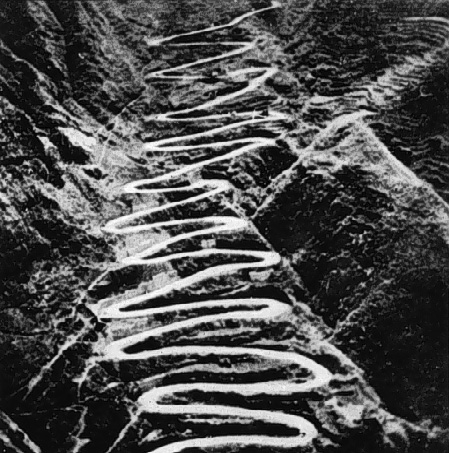 <![endif]>
<![if !supportEmptyParas]> <![endif]>
March 25, 1945 (1st trip across the Burma Road accompanying a Chinese Convoy)
Along the Ledo Road
Mart Darling and Kiddies,
††††††††††† Didnít get a letter from you today. We finally got started on our trip. Left our camp about 8 this morning and went where we were to meet the others. Got together and got started about eleven. Rained today so weíve driven slowly and piddled around a lot. Arrived where we are spending the night at about three oíclock. Started getting our supper when we got here and just finished. Really tasted good. Had fruit juice, sausage and eggs, bread and butter, peanuts, and coffee. Also lemonade. We brought army rations with us† -- 10 in one and they are all very tasty. Weíve been sitting around chewing the fat since. We are stopped at an army camp which is what we will do every night. This ambulance is very comfortable to ride in and to sleep. We have two liters hung up and one will sleep on the floor. Itís a regular traveling hotel. Better deal really than the house trailers in the States. Our party has grown to quite a party Ė about a dozen other officers and enlisted men heard about our deal and are going along so it is really a cookís tour. The people with us are all very swell. All interested in travel and most of them were in geology and such before the war so it is very excellent company. Today has been a very beautiful drive through dense jungles up toward the mountains. The road is a military road Ė two lanes and pretty good. This type of scenery here is entirely different from anything we see in the States. The foliage is different, very pretty and extremely dense --bamboo, enormous trees, bananas, enormous vines and ferns. It is beyond description but when we get back I can send you a lot of pictures which we are taking. This trip really seems like a dream because it is such a wonderful opportunity to take a 10-day sight seeing tour while overseas. Iíll have lots to tell you about this trip when we get together after the war.
††††††††††† Iím thinking of you every minute and love you more than I can ever tell you and I will always. A big hug and a pat and a kiss to all of you.
††††††††††††††††††††††††††††††††††††††††††††††††††††††††††††††††††††††††††††††††††† Love Always, Clint and Daddy
<![if !supportEmptyParas]> <![endif]>
March 27, 1945
Along the Ledo Road
Mart Darling and Kiddies,
††††††††††† Got up early yesterday morning and were on the road by 6 oíclock. Drove until about four then stopped at an army camp. Had a hot shower and a good dinner at an officerís mess. Also hot breakfast here. I am writing this from the mess. I canít tell you about our route but the country we came through all day yesterday was mountainous and more beautiful scenery than I have ever seen anywhere. Weíre taking lots of pictures and will send you a full report in writing and pictures when we are back. This trip beats any vacation trip that anyone could possibly take.
††††††††††† After dinner last night went to a show here in this camp. Outdoor show, set among enormous teak wood trees -- full moon made it really a delightful spot. Show was Burma Mystery Ė pretty good with many newsreels and a picture of Bob Hope on his U.S.O. tour in Hawaii, which was a scream. Got to bed about eleven. There are some things here we want to see so will probably be around here until noon.
††††††††††† Yesterday morning came across an accident on the road. A Chinese driving an American truck ran off the road. I got him up and took him to a nearby dispensary. Am anxious to give you a detailed report on this trip when finished but until then know that I am thinking of you all every minute and love you more than I can ever tell you. There is an airfield here so you should get good service on this letter. Wish that I could write more but until I can, all my love.
††††††††††††††††††††††††††††††††††††††††††††††††††††††††††††††††††††††††††††††††††† Always, Clint and Daddy
<![if !supportEmptyParas]> <![endif]>
March 28, 1945
Along the Ledo Road
Mart Darling and Kiddies,
††††††††††† Just got up and had breakfast and am waiting for the others to get ready. Believe it or not it is now 6 A.M. We went to bed early last night so woke up at 5. After I wrote yesterday I spent most of the day visiting a hospital, which is set up here and have a similar set up to what we will have. They are a unit from Los Angeles and are a fine bunch of fellows -- none of them that I know. They have been over here for two years and are ready for rotation. Had a swell lunch there and then we left and drove only about 20 miles to a very pretty river and camped here. This is very beautiful spot. We just loafed around most of the afternoon and looked over this place. This point is about the furthest point to which the Japs advanced and is where Merrellís Marauders began knocking them out. The Japs were driven out of there about two years ago. After supper sat around the fire shooting the breeze and then went to bed early. We are really having a picnic and it is just that. Know that I am thinking of you every minute and love you more than ever.
††††††††††††††††††††††††††††††††††††††††††††††††††††††††††††††††††††††††††††††††††† Always, Clint and Daddy
<![if !supportEmptyParas]> <![endif]>
March 29, 1945
Along the Ledo Road
Mart Darling and Kiddies,
††††††††††† After writing yesterday morning started out and drove until about 4:30 in the afternoon. Drove through beautiful country all day. We came across 3 elephants along the road Ė 3 large and a baby so I got on one and got my picture taken. Kids should get a bang out of that. We got into Myitkyina about 4:30. I looked up Chaplain Magnon, Burlingame and Burns who are on duty with hospitals here. Also saw a lot of our enlisted men who are on duty here. Got a shave and shower and then had dinner with Magnon, then sat around all evening talking shop. This is very pretty country but the town is bombed into absolute rubble. The Japs were driven out of here about a year ago. There is not more than 2 or 3 buildings standing in the entire city. We saw one Buddhist Temple pretty well preserved. There are Jap skeletons lying all over the place with helmets over the skull with a big hole in it. This is the first I have seen of the destruction of war and I am glad that the war itself is far from here and will always be hundreds of miles from our place. Drove out about 15 miles to a spot along a beautiful river, the Irrawaddy, where the rest are camped for the night. Into bed about eleven and slept until six this morning. Just finished breakfast of peaches, sausage, coffee, bread and jam. We are going to stay here today and do some more looking around in town.
††††††††††† I found myself a Chinaman here this morning and got all my dirty clothes washed for the price of six cigarettes. Cigarettes in this country will buy a very great many services. Am having a wonderful trip and wouldnít trade this experience for a very great deal. Am thinking of you all every minute and do love you so very much.
††††††††††††††††††††††††††††††††††††††††††††††††††††††††††††††††††††††††††††††††††† Always, Clint and Daddy
Surely miss not getting any mail and hope these letters will get through without any delay. Martie Ann and Gregg what do you think of me riding an elephant? Iíll send the picture soon. Give Mommy and Mollie and Gary all a big kiss for me.
<![if !supportEmptyParas]> <![endif]>
March 30, 1945
Along the Ledo Road in Burma
Mart Darling and Kiddies,
Was up early this morning and just had breakfast. Very good Ė French toast, fruit juice and coffee. Itís now only 6:15 A.M. but over there sun comes up about 5:45. I spent the day yesterday in Myitkyina looking over the ruins and then about 5 went out and had supper with Burlingame and Burns. The cooks are all our boys so we got real service. I hadnít seen these boys since we left Bushnell. Came back to our camp on the Irrawaddy about nine and went to bed. Slept like a top. Had a good chance to see the Burmese people in town yesterday. They are just migrating back in here from India to where they fled in 1942. They are just beginning to rebuild. They build their houses up in the air on shelves out of bamboo and with thatched roofs, but they build very neat and quite substantial looking houses. The people themselves are small but very clean. The women wear very colorful clothes. A skirt wrapped around very tightly, ankle length, bright colored silk, mostly white net like tops, lots of jewelry, big straw hats. Men mostly wear shorts and skirts. Kipling wrote of the moon over Burma as have others and fortunately there is now a full moon and it is truthfully by far the most beautiful moon that I have ever seen.
The war news really sounds wonderful in Europe and I wouldnít be surprised to see a surrender any day now. Eisenhower sounds very optimistic and donít believe he would make such a statement unless he thought it would be over in a matter of days or weeks. Things are very good in the Pacific and over here. Believe the stage is set to knock out Japan from both sides in fairly short order and I still believe the war will be over and I will be home before the end of this year. We are having a wonderful little vacation tour. A captain by the name of Cook joined us last night for the rest of our jaunt so now it is really a Cookís tour.
Iím thinking of you all every minute and counting the days until we are together again. I love you all so very, very much and will always. You are the most wonderful little family in the world and I am so very proud of you.
††††††††††††††††††††††††††††††††††††††††††††††††††††††††††††††††††††††††††††††††††† Love Always, Clint and Daddy
<![if !supportEmptyParas]> <![endif]>
March 31, 1945
Along the Ledo Road in Burma
Mart Darling and Kiddies,
††††††††††† We drove all day yesterday through beautiful mountain country and arrived at Bhamo last night. It was pretty warm yesterday afternoon so we stopped by a little mountain stream and took a swim. Cumbieís outfit is stationed here so I had dinner and spent the night with him. He was somewhat surprised when I walked in. Iím in his quarters now and weíre going to eave right away to go on our little journey. Weíre having a grand time and seeing the most beautiful country that Iíve ever seen. We are now in large teak wood forests. This town, like Myitkyina is bombed absolutely flat from when the Americans chased the Japs out last year. Not more than about a dozen buildings standing in the entire town. The others are waiting so Iíd better get going.
††††††††††† Thinking of you all every minute and love you so much. Gary was very proud of his namesake when I showed him the picture.
††††††††††††††††††††††††††††††††††††††††††††††††††††††††††††††††††††††† Love Always, Clint and Daddy
<![if !supportEmptyParas]> <![endif]>
April 1, 1945
Along the Ledo Road in Burma
Mart Darling and Kiddies,
††††††††††† Well here it is Easter Sunday. I hope that you are having nice weather and a little egg hunt in the backyard. Eat a hard boiled egg for me will you? Really miss not getting any mail but should have a great deal waiting for me when I get back.
††††††††††† After breakfast with Cumbie yesterday drove all day through the most beautiful mountain country. These Burmese hills are really rugged. Passed many Buddhist temples and villages that have been destroyed. Arrived in Namhkam last night and spent the night there. Camped beside a nice little stream and had a good bath. We just happened along at the right time last night to see the last rites for a Buddhist priest. They had the body wrapped in beautiful colors, decorated with tinsel and flowers and a huge rope of bamboo tied to each end and several hundred loyal subjects were having a tug of war. After the tug of war, women came from nearby houses, carrying trays of food as a sacrifice. When we got up this morning, went up to the Seagrave Hospital. Dr. Seagrave is the author of Burma Surgeon. You must read it now. I looked up Seagrave and had a very nice visit with him and took some pictures. His hospital was bombed out by the Japs but he now has it practically rebuilt. He has a very nice layout Ė two story buildings, his own home and about seven or eight wards. Seagrave joined the army early in the war and took his hospital with him into China. He walked out of China with Stillenelf. We are really having a magnificent trip.
††††††††††† In Namhkam there is an enormous Buddhist temple. Buddhaís of stone and wood ranging from seven or eight inches high to 30 feet -- very beautiful. We picked up a couple of small ones of stone and a couple of wooden ones. One is about 2 feet high of brass and also an enormous brass bell with much enamel engraving. Thought we could we use the stuff for decoration in our officersí mess and tent when we get set up. Maybe someday I can ship the brass Buddha home. It would be quite a thing to have sitting in a little garden niche. All the Buddhas that we have found except the brass one have their heads off. The Chinese break them up on purpose because they do not like Buddhism and are pretty barbaric. Must go now but know that I am thinking of you every minute this beautiful Easter morning and love you so very much.
††††††††††††††††††††††††††††††††††††††††††††††††††††††††††††††††††††††† Always, Clint and Daddy
From the veranda of Seagraveís home you can see China, Burma and Indo China
<![if !supportEmptyParas]> <![endif]>
April 2, 1945
Along the Burma Road in China
Mart Darling and Kiddies,
††††††††††† Does the heading of this letter surprise you or are you getting so that nothing surprises you? After leaving Namhkam yesterday we came to the junction of the Ledo and Burma Roads. Soon after we came onto the Burma Road we entered China. The battle line is over 400 miles from any point that we will be near so donít get excited about that. The character of the people and towns immediately changes after entering China. The towns are all demolished same as in Burma. The Americans of course are the ones who demolished these towns when they captured them. Demolished by means of bombers and artillery fire. Every town is loaded with wrecked Jap equipment, huge bomb craters, etc. We drove all day through very beautiful mountain country with an occasional valley. In the valleys are huge rice paddies, banana groves and the type of plant from which hemp is made. Immediately after crossing the border American goods become strongly in demand. Cigarettes are the most sought after. A package of ten American cigarettes brings as high as 500 Chinese dollars. The present rate of exchange is about $1 American to $500 Chinese but it still makes American cigarettes very valuable. I understand that throughout China there is practically no merchandise of any kind hence the high prices. What the Japs didnít carry off or destroy has been used up by the people. We have joined an American convoy and will stay with this convoy for the rest of the trip since it saves a lot of trouble answering questions and explaining at the border customs, guards, etc. We are just part of the convoy and hence no questions. We are having a wonderful trip and it is really an experience of a lifetime. We are going to take slightly longer than we had originally planned and will probably spend another 5 days out before we return to Ledo. Miss very, very much not getting mail from you but will have a wonderful collection awaiting my return and that will be a happy day. Know that I am thinking of you and love you more than I can ever tell you. Martie Ann, are you still getting dressed up and painted up like a queen every day? You write beautiful letters so write real often. Gregg, how are you getting along with the boots and whips these days? Are you going pony riding next summer? Better make Mommy or the Goggies take you once in a while. Give Mollie and Gary a big hug and a kiss and a pat for me and mind your Mommy. I love you very, very much.
††††††††††††††††††††††††††††††††††††††††††††††††††††††††††††††††††††††††††††††††††† Always, Clint and Daddy
<![if !supportEmptyParas]> <![endif]>
April 2, 1945
Along the Burma Road in China
Mart Darling and Kiddies,
††††††††††† Wrote to you an hour or so ago but though I would start another while my impressions are fresh in mind. What is very impressive at first soon becomes commonplace so that it is easy to forget. We are going through country this morning that is true China as we have read about it. Flooded rice paddies everywhere with Chinese plowing with wooden plows and buffalo. Women with bound feet, many full-grown women with feet not over 4 inches long. Houses are mud and straw brick with thatched roofs. The towns all being rebuilt on the site of the old ones. All along the roads are women, children and men on the road to market. All carry baskets slung on the end of a pole across their shoulders. All along the roads especially in towns are old men sitting smoking their opium pipes. The percentage of opium smokers must be very high. The markets are filthy places Ė even more than India, with meat hung up, millions of flies and everywhere you look is the worst kind of filth.
††††††††††† The countryside here is very pretty Ė everywhere are Dog Wood trees in bloom and very colorful. All along the roads the kids stand thumbs up, yelling Ding How (everything good) or OK. I quit this about 9 oĎclock yesterday and will now finish it.
††††††††††† April 3, 7:30 A.M. Early yesterday morning we came again into the foothills of the Himalayas and they are the most magnificent sight that I have ever seen. We wound up and up, hairpin curves by the hundreds. Drove in low or 2nd gear most all day, then wound down into the Salween River gorge, which is really a sight. This country is more beautiful than any scenery in the States and one thing you can be sure of is that never will more than a few hundred Americans ever see this country. About noon we came out of the teak wood and bamboo country and then gradually came into evergreen country. The evergreens look like Austrian pine predominantly. There is a huge suspension bridge across the Salween. We crossed this and then climbed to the top of the next slope and camped for the night. We are still with the American convoy. At the point where we camped for the night, the Chinese and Americans were dug in and the Japs were across the river. This was one of the fieriest battles of the war -- the battle for the Salween Gorge. There are hundreds and hundreds of wrecked trucks strewn all over the place. Looks like a junk dealers heaven. I dreamed last night that I walked into my tent in Ledo and you were there and said you have a lot of mail from home. I said swell and started reading them and that was the end of the dream. Must be that I really miss your letters and I do. Not only in my dreams. We are ready to start out so better close and will write soon. Know that Iím thinking of you and love you every minute.
††††††††††††††††††††††††††††††††††††††††††††††††††††††††††††††††††††††† Love Always, Clint and Daddy
<![if !supportEmptyParas]> <![endif]>
April 4, 1945
Along the Burma Road in China
Mart Darling and Kiddies,
††††††††††† Left the Salween River Gorge yesterday and drove until about noon. The drive coming out of the Gorge was most magnificent. Road winds up and up the side of the mountain, in many places during the morning we could look across to where we had been the day before. I didnít mention before that we had a time change at the border, which now makes us one hour closer to Omaha time. Actually about the time we leave Ledo we start getting closer to Omaha. It is still quite a smart distance. We stopped in a little village yesterday and some of the boys did a little trading. Believe I mentioned that prices here are very high but American goods bring terrific prices. The rate of exchange is $600 Chinese for one U.S. dollar or $2,000 Chinese dollars for 10 Indian Rupees. I saw some boys trade a few packs of cigarettes for $7,500 Chinese dollars plus some little China spoons and some chopsticks. Also they would throw in a dozen cans of dehydrated food. We arrived in Paoshan about noon and went to a hotel, which was taken over by the Americans. Had a hot bath and shave (first in ten days) and put on clean clothes. Got a Chinese boy to do up all of our laundry. Then went to lunch at a very good Chinese restaurant. Had sweet sour pork, friend chop suey, egg fu young ad tea. Lunch for three of us cost $3,250 Chinese dollars which is about $6 American. We spent the money that the boys got on the trade. This city is a very ancient one. Is entirely walled, wall of stone and earth about 30 feet high. Buildings are very old, much brick with tile or thatched roofs, narrow streets with bazaars and restaurants lining both sides. It is dirty here like India but not as bad because they do not have the d--- sacred cows all over the street and I believe personal hygiene habits are a little better.
††††††††††† We spent the afternoon loafing around, taking pictures and did a little bartering. Bought you a few trinkets. Bought a very pretty little bracelet for $4,000 and an opium pipe for $7,000. Donít get excited, I didnít mortgage the house. I of course mean Chinese dollars and it all simmers down to a carton of cigarettes. Some other prices that I noticed were a thermos bottle for $35,000, Scotch whiskey (very poor) for $6,000, rum for $2,000 and gin for $5,000. Itís a wee bit confusing and for 30 rupees you get so much money you can hardly get it in your pocket. Went to the hotel for supper and was very good Ė roast beef, mashed potatoes, etc. and chocolate pudding with cooked raisins in it. It is very good; try it sometime. After supper went to a nearby hospital to a show -- junk show, but afterwards met the C.O. and some other officers. Looked the place over and went to their quarters for coffee. Had a nice visit with them and they seemed delighted to have someone visit. They have been here for 16 months. It is a small group and it is pretty isolated so that they donít see many Americans. The officers by the way in all of these overseas stations are a wonderful bunch of guys. All are entirely different lot than you find in the States. All are glad to see you and want to visit about how things were in the States, etc. Many have been here for 2 and 3 years but most of them who have been here over 2 years are now getting to go home. Went to bed about eleven thirty and slept like a log. Up about seven this morning and went to the hotel for breakfast Ė 3 eggs, pancakes, honey and coffee. Sound good? We are going to stay here today because the convoy is laying over so we will be longer than I first thought on the trip. We will be about five days getting back to where we started from. Am having a wonderful trip and thinking of you all every minute and love you more than I can ever tell you.
††††††††††††††††††††††††††††††††††††††††††††††††††††††††††††††††††††††† All my love always, Clint and Daddy
<![if !supportEmptyParas]> <![endif]>
Supplemental: U.S. Convoy which operates between Chen-Yi and Kweiyang,China, is ascending the famous twenty-one curves at Annan,China
<![if !vml]>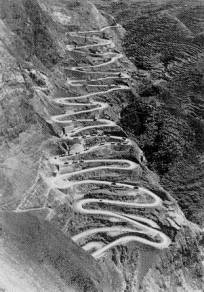 <![endif]>
<![if !supportEmptyParas]> <![endif]>
April 5, 1945
Along the Burma Road in China
Mart Darling and Kiddies,
††††††††††† Well we are about ready to start on our little journey again this morning and have only four days to go now. I couldnít tell you the straight goods before starting but I am with a convoy as medical officer and have been the entire trip. I have a technician and a driver with me and of course there are a great number of other officers and drivers along. They have had a little trouble with some of the trucks and that is why we have been so slow. I am glad that weíve moved slowly because it has given me such an excellent opportunity to see the country and visit hospitals, etc. along the way.
††††††††††† We spent the day browsing around Paoshan and really looked the town over from one end to the other. Ate breakfast and lunch at the hotel and had dinner at an excellent Chinese restaurant. Last night went to a movie, Judy Garland and Mickey Rooney in ďStrike Up the Band.Ē Itís a very entertaining show and believe Martie Ann and Gregg would enjoy it a lot. You would like it also. Hope my letters reach the end of this trip so I can get your letters. This is really a most wonderful trip. We are ready to leave so must close. Know that I am thinking of you every minute and love you more than ever.
††††††††††††††††††††††††††††††††††††††††††††††††††††††††††††††††††††††††††††††††††† Always, Clint and Daddy
<![if !supportEmptyParas]> <![endif]>
April 7, 1945
Along the Burma Road in China
Mart Darling and Kiddies,
††††††††††† Didnít get a chance to write yesterday. Was very busy taking care of a lad. Arrived for our overnight stop about 4 oíclock. Had a bath in a beautiful mountain stream. Had dinner and went to bed about nine. Slept like a log. The country we are now in is more beautiful mile by mile. Wonderful mountains on all sides with terraced valleys below and very pretty mountain streams. All trees are evergreen here and it is one of the nicest forests that I have seen. In this part of China the people are extremely poor Ė exist and that is all. I would estimate that 90% of adults and 25 to 50% of children have goiters. I have seen thousands and thousands of goiters just driving along the road. Many goiters are as large as 3 or 4 grapefruit. Along with this are hundreds of typical cretins (thyroid dwarfs). The older women in this part all have bound feet but the practice has been discontinued. The way it was originally done was when the child was 2 years old the bones of the feet were broken and then bound and kept bound throughout life. They walk exactly as though walking on stumps and that is what it amounts to. Seeing this part of the country as in India and everywhere else makes one feel among the chosen few to be an American.
††††††††††† Am getting very anxious to have some mail from you. It has been exactly two weeks since the last letter and that is a long time. We will complete our little journey in 3 more days and I will be glad to get there. Bob Tate is on a deal just like this and I saw him yesterday morning. Col. Tyner also but he is behind us about 3 days. This has been an experience that I wouldnít part with for anything but it is now beginning to seem like we have been on the road for months. I brought some of your last letters along and read them over for lack of new ones. I know that you and the kids are all fine and want you to stay that way. Donít work too hard. Take care of your own health above all other things. I am feeling like a million. Have never had a single day of illness of any kind since I left the States and intend to stay that way. I always watch the food, water and mosquitoes. Am thinking of you all every minute. Have your picture with me and admire you rascals every day. I love you all only. A big hug and a kiss and a pat for every one.
††††††††††††††††††††††††††††††††††††††††††††††††††††††††††††††††††††††††††††††††††† Always, Clint and Daddy
††††††††††† There are lots of fresh eggs here Ė one cigarette for one egg. We traded a half box of crackers and 3 empty tin cans for 15 eggs. Good trade?
<![if !supportEmptyParas]> <![endif]>
April 8, 1945
Along the Burma Road in China
Mart Darling and Kiddies,
††††††††††† Well here it is, my third Sunday on the road and what a wonderful experience. I am very glad that we have moved slowly since it has given me a much better opportunity to see the country but it does seem like we have been on the road forever. Yesterday the country that we came through was much more prosperous. People look better fed and dressed Ė not so many goiters and better type of buildings. The answer I believe is that we were in a wide fertile valley where food is more plentiful. We stopped at a large army installation for the night and were quartered in very nice brick buildings. Had an elegant supper and breakfast. Supper was fried chicken, potatoes, gravy, soup, and cake. Breakfast was bacon and eggs and oranges. In the valley we were in yesterday they raise very fine oranges. It is very high and quite cool. Donít see how oranges grow but they were for sale all along the road and we bought dozens of them. The price was $100 for 2 oranges or $600 a dozen (Chinese money). Watch the news reels Ė ďLifeĒ etc. for pictures of the building and convoys over this road. The first convoy went over in February so you should be seeing a lot of it. Keep any pictures and articles and Iíll tell you more about it later. We should arrive at our destination tomorrow. Thinking of you all every minute and love you more than I can ever tell you.
††††††††††††††††††††††††††††††††††††††††††††††††††††††††††††††††††††††††††††††††††† Always, Clint and Daddy
<![if !supportEmptyParas]> <![endif]>
April 9, 1945
Along the Burma Road in China
Mart Darling and Kiddies,
††††††††††† We are just ready to start another day on our journey and today should bring us to our destination and mail from you, I hope. It really seems like a long time out on the road and it has actually been only 16 days now. The country we passed through yesterday was very beautiful. High mountains, evergreen forests, wide fertile terraced valley and quite a few villages with impossible names Ė all with 30 feet high stone walls and an earthen bank 20 or 30 feet thick. The people are a little better class. We stopped at a Chinese temple and went inside. At the altar was a huge ferocious looking black-faced idle holding a huge club as though ready to strike. On either side of him was a very peaceful idle of a woman.† In front of the idles was a crude bench like altar with pots and sticks of burning incense. On the altar was a bowl containing hundreds of carved bamboo sticks each carved differently and with an inscription on it. You select a stick from the bowl and give it to the priest. He takes the stick, looks at the inscription and then goes to another room and selects the corresponding printing block, inks the block and prints the inscription onto a piece of parchment. You then take the parchment to the altar and burn it. That is the way to pray. We got a prayer stick and the corresponding parchment. Iíll enclose the parchment and send the prayer stick later. We saw another interesting thing yesterday. All Chinese are buried in stone tombs above the ground. They save all their lives to build this tomb. The survivors from time to time feed the dead. That is what we saw yesterday. They take trays piled high with food and go to each tomb with the trays.
Iíd better not go into detail, since it might not be acceptable as far a Chino-American relations are concerned, but when I get home remind me to tell you of an example of Chinese barbarism and brutality in regards to the recruiting of men for the Chinese army which we saw. Also a few examples of discipline in the Chinese army which we saw. Believe that I can tell you different yarns every day for the rest of my life and never repeat. The experiences that we are having are like a dream. I have to pinch myself now and then to believe itís me. This whole experience is priceless. It should in later years be a great advantage to the youngsters. Must go now. Will write more later. Am thinking of you every minute and do love you so very, very much.
††††††††††††††††††††††††††††††††††††††††††††††††††††††††††††††††††††††††††††††††††† Always, Cline and Daddy
<![if !supportEmptyParas]> <![endif]>
April 10, 1945
Along the Burma Road in China
Mart Darling and Kiddies,
††††††††††† After driving all day we stopped last night just about four miles short of our destination and are now at the outskirts of the city awaiting our reception committee (the M.P. escort). The country here is really beautiful. It is similar in most respects to the country around Denver. It would be a wonderful place to be stationed.
We had the most unbelievable experience last night. There was a small camp near where we stopped and we asked some boys if there was any place to take a bath. They directed us to a hotel about 10 miles away and said it was very good. We expected the usual mud brick flop house with public shower. When we arrived we found a very small city, modern in every respect with paved streets, running water, sewers and electricity. Every building was pink stucco with tile roofs. One beautiful house was owned by a Chinese general. The town is located on the site of a warm natural spring. The hotel is pink stucco, 4 stories high, built around a beautiful patio. We asked for a bath and they took us each to a room about 12 by 25 feet, all tile with little steps that led down to a pool filled with clean, warm water. Also in the room was a bowl and a shower with shower heads pointed from all sides. We were a pretty dirty lot so it really felt like we had arrived in Shangri La. We spent about an hour lounging in the pool. After our bath went in to the bar room which was strictly up-town. Had a Tom Collins then had dinner. What a dinner Ė liver soup and scrambled eggs with ham. Then the main course! Ė fried chicken, French fries and green peas. Desert was cake with nuts and fruit with delicious dressing over it and plenty of real good coffee. After dinner we walked around a while and went back to camp. Iím still am pinching myself. Got up this morning and went back to the hotel for breakfast. Had ham, 3 fried eggs, good toast, apple butter and coffee. Being stationed real near this place would be wonderful. While there last night we looked at their rooms. They are suites Ė living room and bedroom, beautifully furnished with modern furniture and inner spring mattresses. The cost at the hotel is $5000 per person which includes meals. Thatís about $10 American. This hotel was built only two years ago.
It is actually a resort and most of the people staying there are very wealthy Chinese. We saw many families there, apparently who have evacuated some other city and are staying there for the duration. Looked like very high class people. Am thinking of you all every minute and love you so very much. Will see Tate and many of our other officers today and also Col. Armstong and Lt. Col. Cavenaugh, the Theatre Surgeon and his assistant, both who are very good friends.
††††††††††††††††††††††††††††††††††††††††††††††† Love you so much. Always, Clint and Daddy